Partner News: Cincoze Awarded UL Certification
Partner News: Cincoze Awarded UL Certification
In harsh industrial environments, product safety is critical. Our partner Cincoze knows this. So, as a leading rugged embedded computer brand, their whole product line-up is specifically designed to improve safety. During product design, Cincoze engineers use Hazard-Based Safety Engineering (HBSE) design principles and material selection to ensure our products meet and exceed information and communication technology (ICT) and audio-visual (AV) safety standards to comply with the international IEC 62368-1, the EU CE mark for low voltage directive (LVD) EN 62368. Now, Cincoze is applying for UL certification for more products to further ensure they meet strict safety standards.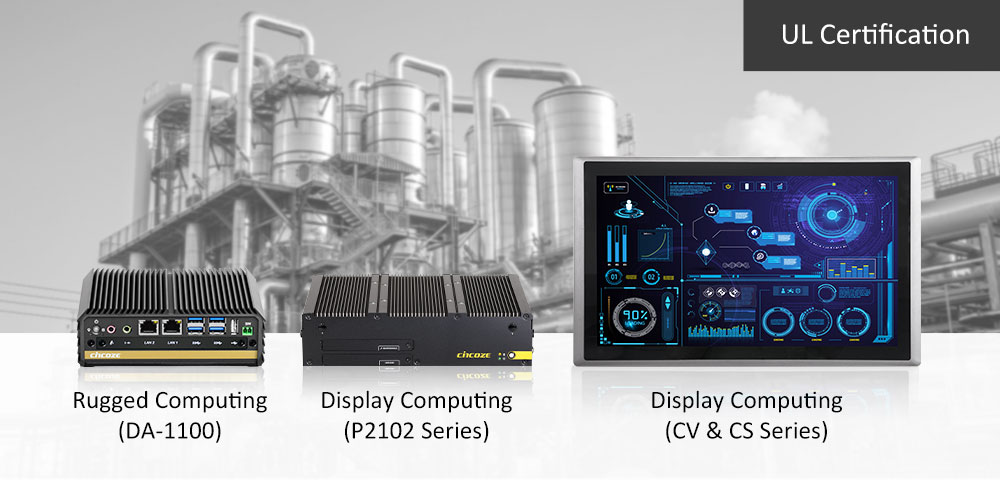 Image source: Cincoze
Built on HBSE high security specifications
A safe industrial environment is built on environmental and equipment safety, and any embedded system built in line with HBSE and installed in a device must pass IEC 62368-1 at a minimum. HBSE requires that, regardless of normal or faulty product operation, the safety of the operator is ensured when touching the device. The device must protect the operator from injury due to electric shock or burns, allow safe use with the predictable operation, and prevent any electrical fires that could cause personal injury or property damage. HBSE requirements include the use of self-extinguishing plastics, fuses for all connectors, fire-resistant wires, and additional thermal protection, to eliminate any chance of shutting down the production line or causing danger that could result in inestimable losses.
Underwriter Laboratories Inc (UL) is the most authoritative safety laboratory in the United States engaged in global safety testing and identification. UL certification is not mandatory, but based on the insistence on product quality and safety, Cincoze took the initiative to apply for UL certification. Currently, the Rugged Computing – DIAMOND product line's power efficient and basic embedded computer (DA-1100) and the Display Computing – CRYSTAL product line's computer modules (P2102, P2102E) have achieved UL Listing Certification in the US and Canada, while the Display Computing – CRYSTAL product line's 19-, 21-, and 24-inch display modules (CV-100 series) and sunlight readable display modules (CS-100 series) have achieved UL Component Recognition Certification in the US and Canada. New products will also be set for certification.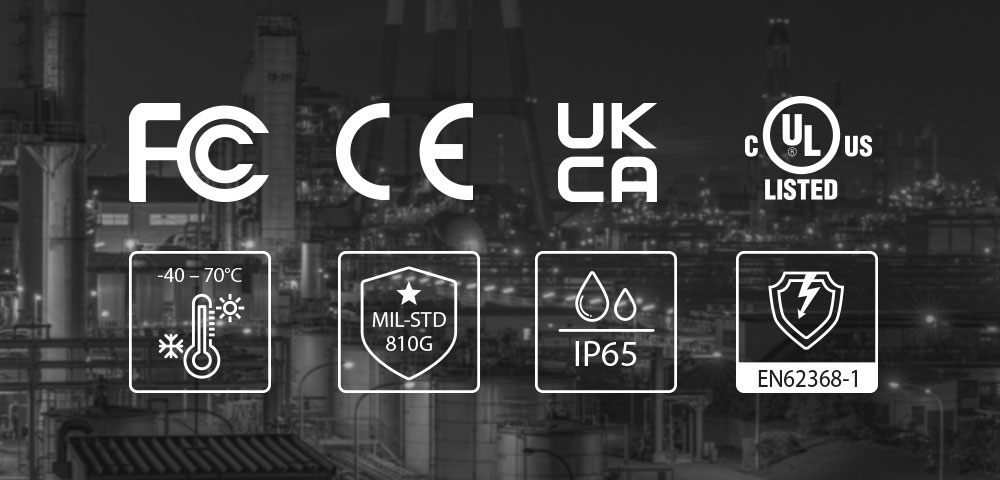 Image source: Cincoze
We are proud to partner with Cincoze as they are committed to the research and development of reliable and stable embedded computers. In addition to the safety that the product itself must have, and numerous robust design features, they have passed strict international testing standards, ensuring continuous stable operation in harsh environments. Some of the extensive international tests include EMC, ruggedness, vibration and shock resistance, and operating temperature.
Safety: IEC/EN 62368-1 and UL safety certification actively eliminate potential safety problems.
Electromagnetic: CE, FCC, UKCA, and other certifications ensure EMC compliance.
Ruggedness: IP65 testing ensures against damage from the ingress of dust and low pressure water jets from all angles.
Vibration and shock: resistance MIL-STD-810G, IEC 60068-2-6, IEC 60068-2-27, and other certifications, ensure that the product can withstand impact during transportation, operation, and storage without getting damaged.
Wide temperature: IEC 60068-2-1, IEC 60068-2-2, and IEC 60068-2-14 certifications demonstrate that products can withstand the wide temperature range of -40°C to 70°C in industrial environments.
To learn more about our smart manufacturing solutions, click here.
Source: https://www.cincoze.com/bulletin_info.php?id=159
Let's get together
We are here to help and answer any question you might have.
Looking for a specific item, need help to design customised system or just want to know more about us – we look forward to hearing from you.
Please fill our form, and we'll get intouch shortly.