Partner News: New Generation of Industrial Computers and Monitor Modules from Cincoze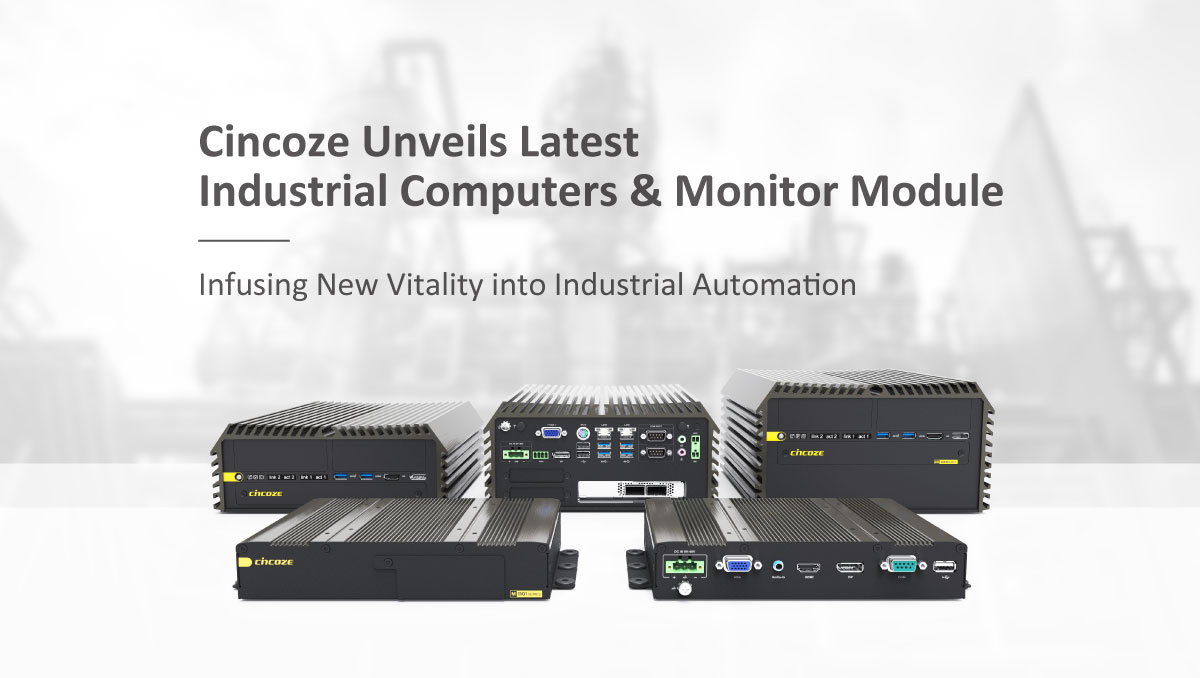 Our partner Cincoze, has launched two new products under its Rugged Computing – DIAMOND (DS-1400 Series) and Display Computing – CRYSTAL product lines (M1101). The DS-1400 series (DS-1400, DS-1401, DS-1402) has significantly upgraded performance and features, meeting the demands for large-scale and real-time image processing and computation required by the rapidly emerging Edge AI. And the newly introduced M1101 monitor module, with its high reliability and optimized performance, injects powerful new energy into our range of industrial-grade touch monitors from Cincoze.
---

DS-1400 Series High-performance and PCIe Expandable Embedded Computer – The Ideal Choice for Edge AI Computing
The most significant advantage of the newly launched DS-1400 series lies in its powerful performance and PCIe expandability. It supports a 12th gen Intel® Alder Lake-S processor with the Intel 7 process, offering a maximum of 16 cores (8P + 8E), and delivering 1.35x the processing performance of the Comet Lake-S processors. The DS-1400 series supports DDR5 memory up to 64GB and 4800MHz, and includes ECC technology, crucial for the high stability and reliability demands of industrial automation. Expansion needs are met with a rich selection of native I/O, while additional I/O and special functions can also be added through Cincoze's exclusive expansion modules. The DS-1400 series offers up to 2x PCI/PCIe expansion slots. It can support a maximum of one 110W add-on card with dimensions of 111 x 235 mm. Expansion cards are held secure with the patented PCIe card retainer (Patent Number: I773359), ensuring that cards remain secure and stable even in continuous vibration environments, which is a significant advantage for applications requiring GPU computation. The DS-1400 series inherits Cincoze's consistent rugged features, such as wide temperature (-40–70°C) and wide voltage, as well as overvoltage, overcurrent, and ESD protection. It also complies with the U.S. military standard for shock and vibration resistance MIL-STD-810G and the EN 50155 (EN 50121-3-2 only) standard required for railway computing, and will also undergo more safety certification in the future.
---

M1101 Monitor Module Optimizes Various Industrial Touch Monitors
The M1101 is Cincoze's latest monitor module, featuring the exclusive patented technology – Convertible Display System (CDS, Patent Number: M482908), it pairs with various display modules to create different types of touch monitors based on application requirements. Options include industrial touch monitors for harsh environments, high-brightness (up to 1,800 nits) sunlight-readable touch monitors for outdoor use, and open-frame touch monitors that perfectly integrate into machinery. All three touch displays paired with the M1101 module feature multi-language OSD menus and three signal input interfaces (HDMI, DisplayPort, and VGA). The M1101 has passed three major high-specification international standards, including industrial-grade EMC protection (EN 61000-6-2/4), shock and vibration proof (EN 60068-2), and the safety standard UL/c-UL 62368-1, ensuring the strictest checks for stability and safety.
For more information, contact us here
Let's get together
We are here to help and answer any question you might have.
Looking for a specific item, need help to design customised system or just want to know more about us – we look forward to hearing from you.
Please fill our form, and we'll get intouch shortly.